---
Article ID: 17
Last updated: 18 Oct, 2022
How to Schedule a TDFT such as certification exam
(https://vss.pearsonvue.com/TemporarySpaceForFiles/VUESupportServices/VSSUserFiles/Scheduling%20Certification%20Exams%20and%20TDFTs%20A4.pdf)
Once each year Test Administrators at your site will need to retake the test administrator exam, either PVTC_A or PVTC_B. Military and corrections sites will take the PVTC_B while everyone else completes the PVTC_A. Reminder, the PVTC_A and PVTC_B exams are open book. The process to schedule and then deliver these exams is as follows:
Open Registration Manager on your admin machine. (Start, VUE Applications, Registration Manager)
Select the VUE Testing client in the client section in the upper left on the screen.
Select the Search button and enter your first and last name in the Find Candidates window. If you do not have a record, you will need to create a new one.
After selecting your name, press the Exams button at the top of the screen.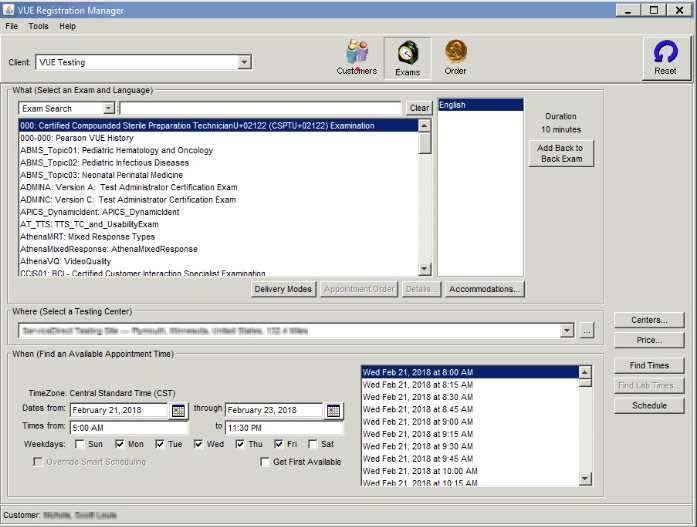 In the Exam Search section of the screen enter PVTC (or another TDFT such as IBTVend). Select the appropriate exam and then be sure to select the exam language (for these exams the only option is English).

Verify the Test Center listed is your test center, if it is not, click the Centers button and select your test center from the list.

In the Appointment Time section, select the date you would like to complete the exam.
Select the Find Times button on the right of the screen and then select the time you would like to deliver the exam. Your test center must have open hours in the Site Manager application to schedule an exam.
Select the Schedule button on the right-hand side of the screen.
The Order screen will appear. Select the Save button. (Note that all TDFT exams are zero dollar)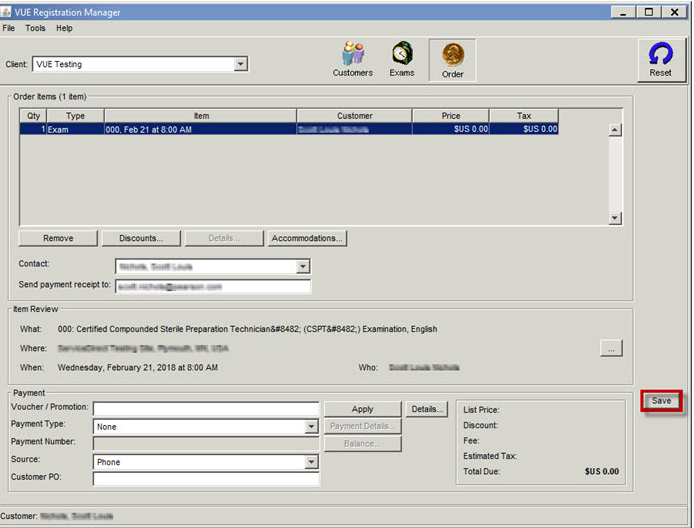 You will then be presented with the Order Confirmation screen. Press OK at the bottom of the screen. (see next page)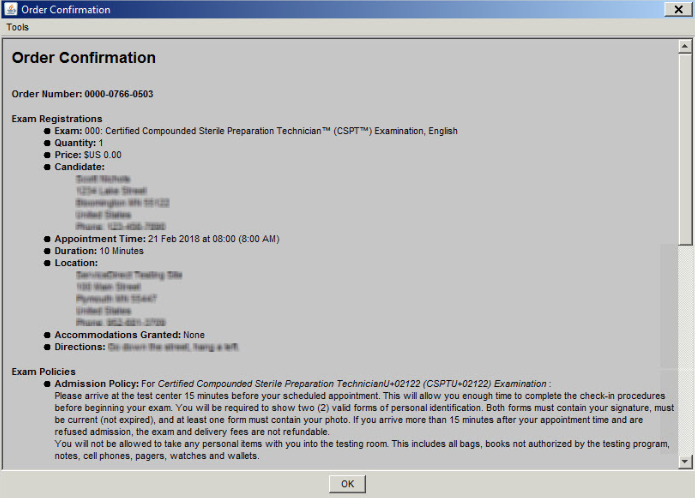 The exam registration is now at the VUE hub. A Remote Maintenance Agent (RMA) task must be completed to bring the exam files down to your testing location. Use this link to learn how to run a Remote Maintenance Agent.
Once the RMA has completed, you will be able to use Admissions Manager to go through the exam admission process.
Link to VUE non-technical support phone numbers (Channel Quality) Return to top of document
Article ID: 17
Last updated:
18 Oct, 2022
Revision: 5